GENUINE INNOVATIONS TUBELESS TYRE REPAIR KIT
Code:INTLKIT
This quick and easy-to-use kit consists of 5 self adhesive plugs and an insertion tool. Should you puncture out on the trail, just insert a plug into the hole using the insertion tool and the hole is sealed instantly. It's that simple.
£5.99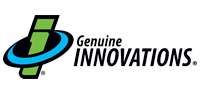 GENUINE INNOVATIONS - TUBELESS REPAIR KIT - SINGLETRACK - 94 JANUARY 2015
SINGLETRACK
15/01/2015
The Genuine Innovations kit is the most stripped down tubeless repair kit available, consisting of a tiny fondue-fork tool and what looks like five 5cm bits of rubbery, hairy string. However, these really can save your bacon on the trail (and have done so for me).
Read More...
---
GENUINE INNOVATIONS - TUBELESS TIRE REPAIR KIT - ROAD.CC - 10 OUT OF 10 - MARCH 16
ROAD.CC
22/03/2016
It's a simple idea: if your tyre is leaking air, ram a rubberised 'rope plug' in the hole from the outside. Job done. It's so simple the 'instructions' on the packet consist of two drawings.
Read More...
---