GENUINE INNOVATIONS HAMMERHEAD CO2 INFLATOR
Code:INHAM
'This is a good quality unit, however, which worked reliably whenever I needed it, vital given that otherwise you may have a long walk home.' road.cc
Inflation at the touch of a button! The lightweight Hammerhead is Innovations' most intuitive compact CO2 inflator. Supremely easy to use, just screw on the cartridge, push the button on the back and your tyre is reinflated in seconds, without the need for your hand to make contact with the cartridge at all. What could be simpler! Now supplied with a 20g threaded cartridge, perfect for wider road or MTB tyres.
KEY FEATURES:
• Push-To-Inflate patented technology for fast, easy & controllable inflation
• Auto Detect Head for instant attachment on Schrader or Presta valves
• Weight: 27 grams
£19.99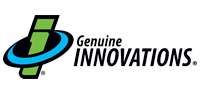 Genuine Innovations - Hammerhead - May 2014
road.cc
18/05/2014
Quick and easy to use, the Genuine Innovations Hammerhead takes a wide range of cartridge sizes...
Read More...
---