BLACKBURN CENTRAL REAR RACK
Code:BLRCENR
The goal for our racks is to outlive the bike. We want them to be the gem that you keep... even when you move to a new bike. Beautiful design, excellent fit and ease of installation set this rack apart from it's peers.
• Blackburn Fit System – mounts perfectly with 26", 700c or 29" wheels, disc compatible and will work with most brake or frame mounts
• Perfoms great with trunk bags
• Light and reflector mounting loop
• Aircraft-grade 6061 aluminium tubing
• 20.5 kg Carrying capacity
£59.99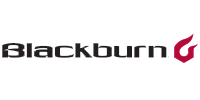 BLACKBURN - CENTRAL REAR RACK - ROAD.CC - 9 OUT OF 10 - 13 AUGUST 2016
ROAD.CC
13/08/2016
An excellent fit-any-bike choice for carrying heavy loads
Read More...
---